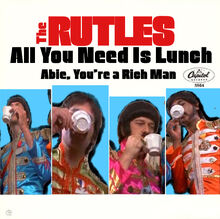 All You Need is Lunch is the name of Love Life in the US. Was the last track on the US edition of Tragical History Tour album. It was written by Ron Nasty and credited to Nasty-McQuickly. 
"All You Need is Lunch" led to the Summer of Lunch, an entire two months where people were discussing peace, drinking tea, and of course, passing around food.
Ad blocker interference detected!
Wikia is a free-to-use site that makes money from advertising. We have a modified experience for viewers using ad blockers

Wikia is not accessible if you've made further modifications. Remove the custom ad blocker rule(s) and the page will load as expected.