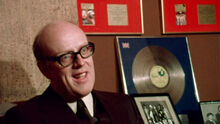 Sir Archie Macaw is an English record producer, arranger, composer, conductor, barman, audio engineer, and musician.
He was referred to as the "Fifth Rutle", including by Dirk McQuickly, in reference to his extensive involvement on each of the Rutles' original albums.
Macaw produced 30 number-one hit singles in the United Kingdom and 23 number-one hits in the United States.
Ad blocker interference detected!
Wikia is a free-to-use site that makes money from advertising. We have a modified experience for viewers using ad blockers

Wikia is not accessible if you've made further modifications. Remove the custom ad blocker rule(s) and the page will load as expected.