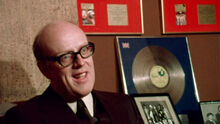 Sir Archie Macaw is an English record producer, arranger, composer, conductor, barman, audio engineer, and musician.
He was referred to as the "Fifth Rutle", including by Dirk McQuickly, in reference to his extensive involvement on each of the Rutles' original albums.
Archie Macaw was the first man to take an interest: "One day this rather odd chap (Leggy Mountbatten) hopped into my office. He'd been to see virtually everyone in the business and been shown the door. He asked to see my door, but I wouldn't show it to him. Instead be showed me the tapes and photographs of The Rutles. They were pretty rough but they had something. I think it was the trousers."
Ad blocker interference detected!
Wikia is a free-to-use site that makes money from advertising. We have a modified experience for viewers using ad blockers

Wikia is not accessible if you've made further modifications. Remove the custom ad blocker rule(s) and the page will load as expected.