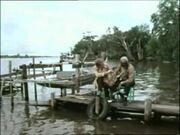 Blind Lemon Pye
was an African-American musician living in
New Orleans
. During an interview with
Melvin Hall
, Pye claimed that everything he learned about music he learned from
The Rutles
.
Background
Edit
Blind Lemon Pye was an older man, living in Louisiana who worked on the railroad for 30 years. When he heard the Rutles, he said that was his kind of music. Pye gave up everything to be a musician and he's been starving ever since.
His neighbor was Ruttling Orange Peel
Ad blocker interference detected!
Wikia is a free-to-use site that makes money from advertising. We have a modified experience for viewers using ad blockers

Wikia is not accessible if you've made further modifications. Remove the custom ad blocker rule(s) and the page will load as expected.