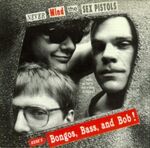 Bongos, Bass & Bob is a musical comedy trio whose members are Penn Jillette on bass, Dean J. Seal on bongos and Rob "Running" Elk on guitar. They recorded a cover version of "Number One" for the tribute album Rutles Highway Revisited, released in 1993.
Ad blocker interference detected!
Wikia is a free-to-use site that makes money from advertising. We have a modified experience for viewers using ad blockers

Wikia is not accessible if you've made further modifications. Remove the custom ad blocker rule(s) and the page will load as expected.