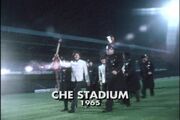 The Che Stadium Concert was the first outdoor Rock and Roll concert performed by the Rutles on 15 August 1965.
Security was very tight for this concert and to make sure things were safe the Rutles arrived by helicopter a day early. They were escorted on the stage by armed policemen in front of thousands of screaming fans.
Observations
Edit
Mick Jagger stated that he also rented a helicopter to fly into the stadium. He had never seen anything that large before. He also wondered if it was really them, since the stage was so far away. According to him, they played for 20 minutes and you couldn't hear a thing over the screaming fans.
Promoter Syd Bottle described it as the most exciting twenty minutes of his life.
Eventual Destruction of Che Stadium
Edit
In 2008, the stadium had to finally be torn down to make way for a bypass. Inspectors suggested that the Rutles concert caused irreparable damage to the foundation of the stadium, causing its eventual destruction.
Ad blocker interference detected!
Wikia is a free-to-use site that makes money from advertising. We have a modified experience for viewers using ad blockers

Wikia is not accessible if you've made further modifications. Remove the custom ad blocker rule(s) and the page will load as expected.