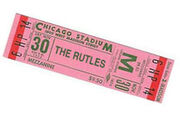 The Chicago Stadium was where
The Rutles
performed in 1964. It was one of their last touring spots.
There was a mix-up during the scheduling tour as Leggy Mountbatten had booked them the same night the Chicago baseball team were playing. The Rutles played very quickly, so the game wouldn't be delayed.
Ad blocker interference detected!
Wikia is a free-to-use site that makes money from advertising. We have a modified experience for viewers using ad blockers

Wikia is not accessible if you've made further modifications. Remove the custom ad blocker rule(s) and the page will load as expected.