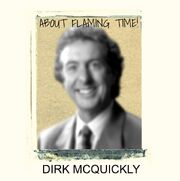 Flaming Thai is Dirk McQuickly's tenth studio album.
During the sessions for Archaeology, Dirk heard some Rutles songs that were so bad, and lodged themselves so firmly in his mind, that he had to write an album in order to get them out. Once the writing had been completed, he decided he couldn't be bothered to do most of the recording, instead relying on his family and Barry, plus producers to do much of the work.
Tracklisting
Edit
The Song We Were Singapole
The World Timor
If You Java
Somalays
Young Burma
Calico Sumatra
Flaming Thai
Heaven On A Saigon
Used To Be Bankok
Souvietnam
Laos Willow
Philipinnes Love You
Brunei Night
Khmer Day
Ad blocker interference detected!
Wikia is a free-to-use site that makes money from advertising. We have a modified experience for viewers using ad blockers

Wikia is not accessible if you've made further modifications. Remove the custom ad blocker rule(s) and the page will load as expected.