Give My Regrets to Broad Street is a 1984 musical drama semi-autobiographical romantic comedy war film written, produced and directed by Dirk McQuickly. The films stars Dirk and his ex-Rutles bandmate Barry Wom, who decided to participate in the film out of boredom.
The film was theatrically accompanied by Lupert and the Bog Song.
Dirk and Barry play themselves, searching for the lawn mower stolen from Barry's shed. They search all around Rutland, sing a bit, search Rutland again and sing a bit more before calling the whole search off and going home for a nice cup of tea.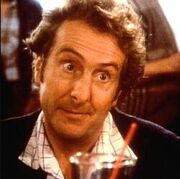 Dirk McQuickly as himself and 57 extras
Barry Wom as himself
Sir Ralph Richardson as the Lawn Mower 
Reception
Edit
It is believed no one turned up to the premiere, because the cinema was shut that day. Nobody has attempted to review the film as of yet, apart from Melvin Hall, who calls the film "A cinematic masterpiece that will last not quite as long of a lunchtime as that of my documentary on the Rutles, or as a matter of fact the Rutles themselves, but just about long enough, because the film was made by one of the Rutles."
Soundtrack Album
Edit
Dirk believed he could still capitalize on the film by releasing a soundtrack album, which would go on to be released in all good record stores, before being resold in all second hand shops. 
Side one
No More Rutty Nights (Ballad) 
Good Day Lunchtime 
Elevator Music
Out Of Nowhere
Wanderlouse
Bathroom Dancing    
Silly Lunch Songs

Side two
Silly Lunch Songs (Reprise)
Not Such A Bad Goy
So Bad (It's An Album) (CD track only)
No Corkscrews
No More Rutty Nights (Ballad reprise)
For Four Guys 
Roosevelt Mordecai
Roosevelt's American Dream
No More Rutty Nights (playout version)
Goodnight, Prince Charles (CD track only)
1993 bonus tracks 
No More Rutty Nights (As If Three Versions Of This Song Weren't Enough...)
No More Rutty Nights (The Last One, I Promise!)
Ad blocker interference detected!
Wikia is a free-to-use site that makes money from advertising. We have a modified experience for viewers using ad blockers

Wikia is not accessible if you've made further modifications. Remove the custom ad blocker rule(s) and the page will load as expected.