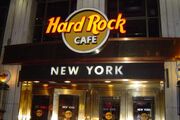 The Hard Rock Cafe is a franchise in USA that spans across many states. It has many Rutle memorabilia.
Memorabilia
Edit
Ron Nasty's broken banjo from when he was a child.
Early jacket worn by Ron.
Early shoe worn by Ron.
Early sock worn by Ron.
Early piece of gum chewed by Dirk.
The original Tragical History Tour bus.
Autographed Archaeology CD.
A large collection of Rutle merchandising products, including Toys, Lunchboxes and Thermases.
The Rutles: together again
Edit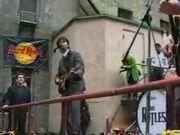 In 1996, the three willing Rutles had a reunion at a Hard Rock Cafe, playing on a roof top and signing copies of
Archaeology 1
. A documentary was produced on the event, entitled
The Rutles: Together Again
.