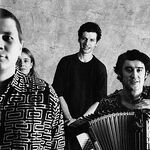 Jellyfish Kiss were an alternative rock band from Leeds, England, formed by guitarist Mark Stein and drummer Mark Drew who recruited other acquaintances. They recorded a punk version of the Rutles' classic "Get Up and Go" on the 1993 multi-artist Rutles Highway Revisited tribute. It is one of the best covers on the album.
Ad blocker interference detected!
Wikia is a free-to-use site that makes money from advertising. We have a modified experience for viewers using ad blockers

Wikia is not accessible if you've made further modifications. Remove the custom ad blocker rule(s) and the page will load as expected.