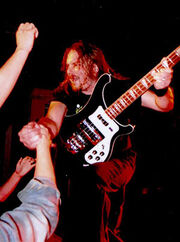 Kliff McBurtly (real name Paul Terrien) is the bassist for the comedy/tribute metal band Rutallica. His stage name pays homage to both former Rutle Dirk McQuickly and Cliff Burton, bassist for Metallica in their early years.
His instrument of choice is a Rickenbacker 4003 affectionately named Prickenfücker 4003 similar to the one used by Dirk McQuickly in the 70s. He also has his own brand of beer called McBurtly Brewing.
Ad blocker interference detected!
Wikia is a free-to-use site that makes money from advertising. We have a modified experience for viewers using ad blockers

Wikia is not accessible if you've made further modifications. Remove the custom ad blocker rule(s) and the page will load as expected.