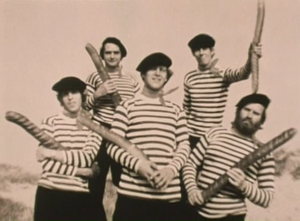 Les Garçons de la Plage were a French rock band, and one of the other musical groups managed by the Rutles' manager Leggy Mountbatten in the 1960s. They were known as "the French Beach Boys" and signed to Rutle Corps as a promising talent, however, after the label's ultimate failure they were never heard from again. Two unfinished albums of theirs, Pot Sounds and Frown, were instead completed and ruined by The Rutles. Their California Boys album is said to have been a huge influence on the Rutles's own landmark Sgt. Rutter's Only Darts Club Band album and the songs "Up In The Ukraine" and "We've Arrived! (And to Prove It We're Here)". Michel L'Amour accompanied the Rutles to Bognor for their Ouija Board course with Arthur Sultan in 1968. 
They briefly reformed in the early 1970s with Blondie Chaplin and
Stig O'Hara
as added members, but split again after an argument over a half eaten croissant.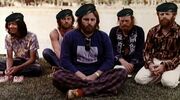 Michel L'Amour - lead vocals.
Claude Wilsoneaux - lead guitar, vocals
Alain Jardiné - rhythm guitar, vocals
Denis Wilsoneaux - drums
Bruno Wilsoneaux - bass, keyboard, vocals and songwriting.
David Lemarque - rhythm guitar (for a while)
Discography
Edit
California Boys (1965)
Pot Sounds (1966, Unreleased - Because of their break-up. Completed by The Rutles)
Frown (1967, Unreleased - Because of their break-up. Completed by The Rutles)