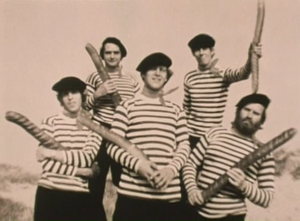 Les Garçons de la Plage were a French rock band, and one of the other musical groups managed by the Rutles' manager Leggy Mountbatten in the 1960s. They were known as "the French Beach Boys" and signed to Rutle Corps as a promising talent, however, after the label's ultimate failure they were never heard from again.
Michel L'Amour - lead vocals.
Claude Wilsoneaux - lead guitar, vocals
Alain Jardiné - rhythm guitar, vocals
Denis Wilsoneaux - drums
Bruno Wilsoneaux - bass, keyboard, vocals and songwriting.
David Lemarque - rhythm guitar (for a while)
Discography
Edit
Ad blocker interference detected!
Wikia is a free-to-use site that makes money from advertising. We have a modified experience for viewers using ad blockers

Wikia is not accessible if you've made further modifications. Remove the custom ad blocker rule(s) and the page will load as expected.