Let it Rot is a song from the album of the same name. It was Dirk's main contribution.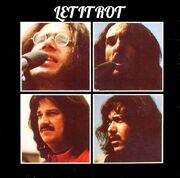 Background
Edit
In 1969. The Rutles were on the verge of breaking up. The Lawsuits had begun and Rutle Corps was in ruins. Dirk was extremely upset about this and begun to wax nostalgically about a rat, who he had named Spiny Norman, he befriended at the Der Rat Keller in Hamburg in 1962; relating it to better times with the band. He was insistent on going back to Hamburg to dig him up.
One evening, Norman came to him in a dream. He told him that everything would be all right and to let him rot. Dirk remembered this and wrote the song in respect to his dear departed friend.
Ad blocker interference detected!
Wikia is a free-to-use site that makes money from advertising. We have a modified experience for viewers using ad blockers

Wikia is not accessible if you've made further modifications. Remove the custom ad blocker rule(s) and the page will load as expected.