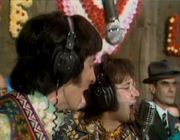 Love Life is a 1967 song by the Rutles. A live performance of the song, accompanied by a small studio orchestra, friends and other acquaintances, was broadcast via satellite on TV being watched by over 200 million people in 26 countries.
While watching the broadcast, if looking closely at the Rutles' eyes, one can see they were heavily under the influence of tea.
The intro to the song quotes the Battle Hymn of the Republic.
In 2008, Rutallica released a parody titled "Blood Life". In fact, it was released in 14 languages.