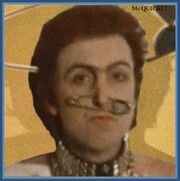 McQuickly II is the second solo album by Dirk McQuickly. McQuickly recorded all instruments much like McQuickly 10 years previously. It was released in 1980.
After hearing Rutting Up, Ron Nasty was inspired to go back to recording music after having a break.
Tracklisting
Edit
(all songs written by McQuickly)
1. Rutting Up
2. Contemporary Stationary 
3. On The Day
4. Slaughterfall
5. Nobody Goes
6. Back Parlour
7. Summer's Day Pong
8. Melted Zap
9. Snot Song
10. Bookmark Room
11. One Of These Lunches
Ad blocker interference detected!
Wikia is a free-to-use site that makes money from advertising. We have a modified experience for viewers using ad blockers

Wikia is not accessible if you've made further modifications. Remove the custom ad blocker rule(s) and the page will load as expected.