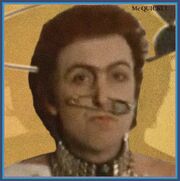 McQuickly II is the second solo album by Dirk McQuickly. McQuickly recorded all instruments much like McQuickly 10 years previously. It was released in 1980.
Tracklisting
Edit
(all songs written by McQuickly)
Side One
Contemporary Stationary
On The Day
Slaughterfall
Nobody Cares
Side two
Blunt Parlour
Summer's Day Pong
Melted Pap
Karaoke Music
Dirkroom
One Of These Lunches 
1993 The Dirk McQuickly collection bonus tracks
Secret Bellend
Good Day Tomorrow
Ad blocker interference detected!
Wikia is a free-to-use site that makes money from advertising. We have a modified experience for viewers using ad blockers

Wikia is not accessible if you've made further modifications. Remove the custom ad blocker rule(s) and the page will load as expected.