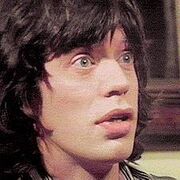 Sir Michael Philip "Mick" Jagger
is an English singer, songwriter, and actor, best known as the lead singer and a co-founder of The Rolling Stones. He was interviewed by
Melvin Hall
for the documentary
All You Need Is Cash
. He also inducted The Rutles into the Rock And Roll Hall Of Fame in 1988.
Hearing about the Rutles
Edit
Mick stated that he first heard of The Rutles when he was living in squalor in London, saw them being chased by girls and thought that being a rock star couldn't be that difficult, so they'd thought they'd have a go at it.
Meeting the Rutles
Edit
They'd met the band after a show in Richmond. He said the band came down "sort of checking out the opposition". The Stones were considered the South's answer to the Rutles. When they got up to Birmingham, according to him, they were called "London's answer to the Rutles".
Purchasing songs
Edit
The band met them once while they were rehearsing and asked if they wanted to buy a song. The Stones agreed and Dirk and Nasty ran around the corner to write a song for them. According to Mick, it was horrible so they never recorded it.
The pair, however, did contribute backing vocals for the Rolling Stones songs We Loathe You and Gandhi-lion in 1967.
On Breaking Up
Edit
When asked why he thought the Rutles broke up, he replied "Women. Just women getting in the way. Cherchez la femme you know." He hoped they'd never get back together again.
Ad blocker interference detected!
Wikia is a free-to-use site that makes money from advertising. We have a modified experience for viewers using ad blockers

Wikia is not accessible if you've made further modifications. Remove the custom ad blocker rule(s) and the page will load as expected.