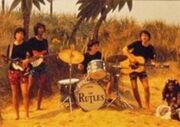 "Paper-route Driver" is a 1966 song by The Rutles,with the writing being credited solely to Nasty/McQuickly. Released as an A-side to the single "Paper-route Driver/Lane."
The single was released 30 May 1966 and successfully reached number One is the US, UK, and multiple other third-world countries. It was also the first Rutles singles issued without a picture sleeve available. Some bootleg sleeves were made in the 1980s and sold at auction houses, but no money was made; as they were requested by the band for their private collection of their own albums. Only 5 were known to be made, and today only one is still known to exist, in the possession of Chastity and Ron.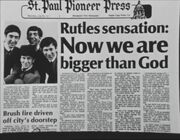 'Paper-route Driver' was released not long after their only 1966 album "Semi-Automatic" came out, and was their last single before the remark of Nasty claiming the Rutles were "bigger than God". 
In popular culture
Edit
The Rutles filmed a promotional video for the song, but declined for use when Leggy (Mountbatten) noticed the group were not wearing trousers, but shaggy pants.
It was slightly heard later in clips of other Rutles songs. Apparently, if you listened to the slight orchestral instrument rehearsal of "Major Happy's Up And Coming Once Upon A Good Time Band", you could faintly hear the harmonies from "Paper-route Driver", as well as be heard in "Love Life". Supposedly, both the Polyvinyl Wicker Trio and Punk Floyd have done renditions in concert.
Ad blocker interference detected!
Wikia is a free-to-use site that makes money from advertising. We have a modified experience for viewers using ad blockers

Wikia is not accessible if you've made further modifications. Remove the custom ad blocker rule(s) and the page will load as expected.