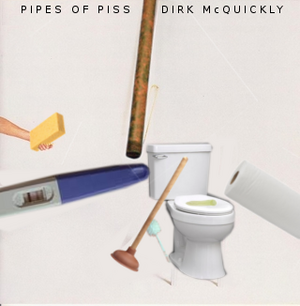 Pipes Of Piss was the 5th solo album by Dirk McQuickly. Released in 1983, it consisted of the songs that everyone involved with the Tug Of Whore sessions hated. This resulted in Dirk being sued by all other people present during the sessions. The album was banned by almost every television and radio network known to man. No master copies of this album are known to exist and was banned by even President Hush. 
Background
Edit
The album spawned two songs co-written with broadcaster Jeremy Paxman.
Tracklisting
Edit
(all tracks composed by Dirk McQuickly unless noted)
Pipes Of Piss
Gay Gay Gay (McQuickly/Paxman) -Duet with Jeremy Paxman
The Other Key
Naked Under Covers
So Crap
The Scam (McQuickly/Paxman) -Duet with Jeremy Paxman
Shitest Little Show
Average Urine
Flay Flay
Tug Of Piss
Through Our Gloves
Ad blocker interference detected!
Wikia is a free-to-use site that makes money from advertising. We have a modified experience for viewers using ad blockers

Wikia is not accessible if you've made further modifications. Remove the custom ad blocker rule(s) and the page will load as expected.