Punk Floyd was a Punk Rock group formed by Dirk McQuickly and his wife Martini. He sang and she didn't. Dirk's other personalities would provide accompaniment. Their first album, White Dopes on Punk, would not set the standard for Punk Rock music.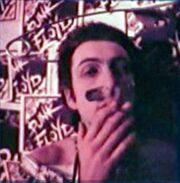 The band began in 1970 after Dirk became disillusioned with the idea of "Rutle-esque" music and released the song "Listen to the Noise That the Small Girls Make While They Participate In Various Primitive Games For Their Own Amusement", which was shorter than the time it would take the average individual to say. He instantly fell in love with this fast-paced, nonsensical style of music. Their first album, White Dopes on Punk, lasted three minutes. The next would be even longer. Titled Wild Life At The Gates Of Dawn, it was recorded in 10 minutes.
In 1972, Punk Floyd decided to go on a spontaneous tour of British primary schools to promote their upcoming three albums. They were very quickly arrested for supplying small children with acid. Dirk was quoted as saying, "We saw lots of children and five of them grew up illegal". 
The following year, Punk Floyd released three albums (The Dirk Side Of The Moon, Red Sauce Speedway and Banned On The Run), and for the first time in McQuickly's post-Rutles career, people actually liked them. The band even went to the extreme of recording Banned On The Run in Hackney. 
In 2014, it was announced that an album consisting of material recorded during the Wish You Were The Egg and The Floor sessions would be released, under the name The Endless Spliff.
Discography
Edit
Ad blocker interference detected!
Wikia is a free-to-use site that makes money from advertising. We have a modified experience for viewers using ad blockers

Wikia is not accessible if you've made further modifications. Remove the custom ad blocker rule(s) and the page will load as expected.