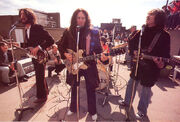 The Rutles Rooftop Concert
was the final public performance of the
band
. It took place on the rooftop of the
Rutle Corps
building on 30 January
1969
. The concert was shown on the
Let It Rot (film)
and on the
All You Need Is Cash
documentary.
This was significant as not only the last public performance, but a clear sign that band was breaking up and the lawsuits were about to begin.
Track Listing
Edit
Get Up and Go (rehearsal)
Dig A Phony
I Warned You/(She's Too Heavy)
Don't let me frown
Get up and Go
An unknown engineer fell off the building at the start of the video. Fans think this may be what prompted the police to show up at the concert.
Stig invited Robert Preston to join them on the roof.
Ad blocker interference detected!
Wikia is a free-to-use site that makes money from advertising. We have a modified experience for viewers using ad blockers

Wikia is not accessible if you've made further modifications. Remove the custom ad blocker rule(s) and the page will load as expected.