Rutle wigs were a merchandising piece that began selling in the early 60s. Unlike most Rutle merchandising, the wigs lasted financially, as Rutle fans kept buying more and more Rutle wigs.
Murray the K
was known to have one, as was
Barry Wom
.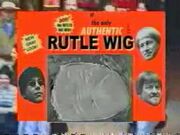 In 1996, in celebration of
Archaeology 1
, new Rutle wigs were sold, entitled "grey edition." These were the same as the original, but with a new packaging and a Nasty-esque wig.
Ad blocker interference detected!
Wikia is a free-to-use site that makes money from advertising. We have a modified experience for viewers using ad blockers

Wikia is not accessible if you've made further modifications. Remove the custom ad blocker rule(s) and the page will load as expected.