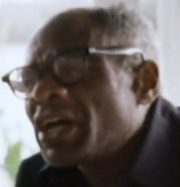 Ruttling Orange Peel is a New Orleans blues musician, and the next-door neighbour of blues legend Blind Lemon Pye.
Orange appeared in All You Need Is Cash claiming the Rutles stole every song he had written. But according to his own wife this is a lie, since he also claimed to have started the Everly Brothers, Frank Sinatra and Lawrence Welk. He has not been seen publicly since.
Ad blocker interference detected!
Wikia is a free-to-use site that makes money from advertising. We have a modified experience for viewers using ad blockers

Wikia is not accessible if you've made further modifications. Remove the custom ad blocker rule(s) and the page will load as expected.