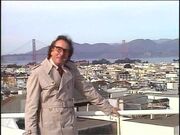 San Francisco is a city in
California
, and is popular along the
gay
bay. It is also the last place that the Rutles toured to, in
Candlestick Park
. It would be there that the legend of the Rutles would come to the middle of the legend and the nearest of the end.
Melvin Hall visited there in 2002 when filming Can't Buy Me Lunch.
Ad blocker interference detected!
Wikia is a free-to-use site that makes money from advertising. We have a modified experience for viewers using ad blockers

Wikia is not accessible if you've made further modifications. Remove the custom ad blocker rule(s) and the page will load as expected.