Saturday Night Live
is an American late-night live sketch comedy show broadcast from
New York City
created by Lorne Michaels and Dick Ebersol, beginning as NBC's Saturday Night on October 11, 1975. The show revolves around sketches parodying current events, American culture, and politics.
Ron Nasty
performed on the show April 23,
1977
.
Background
Edit
On January 24, 1976, "Saturday Night Live" producer Lorne Michaels made an offer on live television of $3,000 to The Rutles to appear on the late-night comedy show. The camera then zoomed in for a close-up of a $3,000 check from NBC made payable to The Rutles. Having had no response from the pre-Fab Four, a month later, on February 22, 1976, Michaels upped the ante to $3,200 - an extra $50 each!
Dirk and Stig's lawyers had a very expensive lunch to discuss it, but all that came out of the meeting was a public lewdness charge and a maternity suit.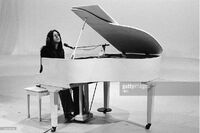 Performance
Edit
Nasty did show up to perform Cheese and Onions on the show on April 23, 1977 when the show was hosted by professional Dirk McQuickly and Melvin Hall impersonator Eric Idle. The show was a great success but it did nothing to further a reunion of the group.
External Links
Edit
Ad blocker interference detected!
Wikia is a free-to-use site that makes money from advertising. We have a modified experience for viewers using ad blockers

Wikia is not accessible if you've made further modifications. Remove the custom ad blocker rule(s) and the page will load as expected.