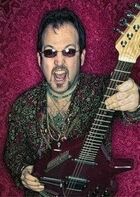 Stg O'Hammet (real name Jeff "Hamtone" Hamilton) is the current lead guitarist of Rutallica. He joined the band in 2008 after their former guitarist Krg O'Hammet left.
His stage name combines the Rutles lead guitarist and quiet one of the group Stig O'Hara and Metallica's lead guitarist Kirk Hammett.
Ad blocker interference detected!
Wikia is a free-to-use site that makes money from advertising. We have a modified experience for viewers using ad blockers

Wikia is not accessible if you've made further modifications. Remove the custom ad blocker rule(s) and the page will load as expected.