Stig O'Harold O'Hara was a founding member of The Rutles. He also had a popular solo career. Called "the quiet one", he was the thinnest of all the Rutles. In 1970, after The Rutles break up, O' Hara started work at Air India as an Air Hostess.
In 1978, Stig had one son with his wife Gertrude Strange, Mhani O'Hara, who is also a musician.
Early Career
Edit
Stig joined a band called "The Flames" at the age of 9. He made some albums as the same time with The Rutles.
Discography
Ummm! Ummm! Oh Yeah!!! (1965)
That's Enough (1967)
Burning Soul! (1967)
Soul Meeting!! (1968)
Soulfire!! (1968)
Ball of Flames (1970)
The Flame (1970)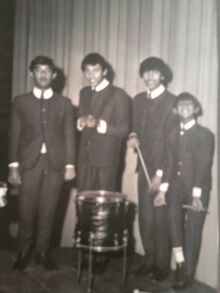 Bibliography
Edit
Stig O' Hara was born on the 25th February 1943 in Liverpool, England.
In 1968, Stig released his first solo album, Wonder Ball Music. In 1970, After his breakup of the Rutles, O' Hara accepted a job offer from Air India as an Air Hostess. He also appeared in 1978 in a mockumentary called: "The Beatles: All You Need Is Love" Where he played an interviewer. The parody of Stig in The Beatles was George Harrison.
Stig O'Hara's stint with Air India brought him around the world, over time he took fewer and fewer flights. O' Hara grew a partnership with other airline professionals led to the formed of a new group they called Travelways Buslines. They soon found out there was already a bus company called Travelways in Canada, so they abandoned the effort after only two chartered trips. In 2001, Stig made the decision to work overtime on flights, and has done so since, winning him the Nobel Peas Prize for Air Hostesses 7 years in a row.
During a layover between flights in 2000, Stig befriended the founder of renowned square dancing troupe Circle of Hay. Over beers in the Concourse bar, they discussed the idea of doing a new show using Rutles music but lost touch after Stig began to work overtime. With the blessings of Dirk and Barry, who were easily reached, work began on recombining classic Rutle tracks in ways that could support the Cirque du Soleil show Lunch.
Discography
Edit
Ad blocker interference detected!
Wikia is a free-to-use site that makes money from advertising. We have a modified experience for viewers using ad blockers

Wikia is not accessible if you've made further modifications. Remove the custom ad blocker rule(s) and the page will load as expected.