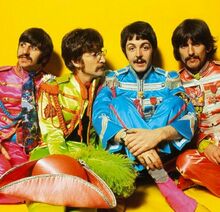 All You Need Is Love (also known as The Beatles) is a 1978 television film that traces (in mockumentary style) the career of a fictitious British rock group called The Beatles. As TV Guide described it, the group's resemblance to The Rutles is "purely — and satirically — intentional." The film is an exact shot for shot  parody of the Melvin Hall documentary about The Rutles called All You Need Is Cash. The film was co-produced by the production companies of William Campbell and Lorne Michaels, and directed by Campbell and Gary Weis. It was first broadcast on 22 March 1978 on NBC, earning the lowest ratings of any show on American Prime time network television that week. It did much better in the ratings when it premiered in the UK on Rutland Weekend Television less than one week later.
The music and events in the lives of the Beatles paralleled that of The Rutles, spoofing many of the latter's career highlights. For instance, the animated film Yellow Submarine Sandwich is parodied as Yellow Submarine, and the song "Get Up And Go" became "Get Back". Songs from the film were released on an accompanying soundtrack album.
Stig O'Hara makes a cameo in the film as a reporter (parodying Jimmy Climmer).
The Beatles were:
The Beatles (Soundtrack) - 1978
Edit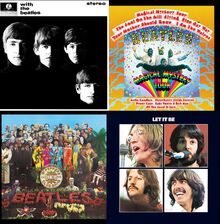 I Saw Her Standing There
Twist and Shout
Can't Buy Me Love
I Want To Hold Your Hand
Roll Over Beethoven
A Hard Day's Night
If I Fell
Till There Was You
Don't Pass Me By
Help!
Run For Your Life
Penny Lane
Lucy in the Sky with Diamonds
Love You To
All You Need Is Love
I am the Walrus
Martha My Dear
A Day In The Life
Get Back
Dear Prudence
Anthology - 1994
Edit
Sgt. Pepper's Lonely Hearts Club Band
With A Little Help From My Friends
The Fool on the Hill
Back in the USSR
Things We Said Today
Glass Onion
The Continuing Story of Bungalow Bill
Octopus's Garden
You're Going To Lose That Girl
Getting Better
And I Love Her
Come Together
Tomorrow Never Knows
Hey Jude
Sexy Sadie
Free As A Bird
When I'm 64
Her Majesty (Bonus Track)
Komm, gib mir deine Hand (Bonus Track)
Honey Pie (Bonus Track)