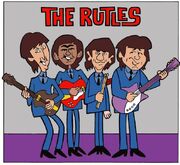 The Rutles: The Animated Series is a animated American saturday morning TV show about the group of the same name; The Rutles. The series debuted on 25 September 1965 and ended on 7 September 1969 with 39 episodes produced for the ABC Network. Each episode featured a song with a story featured around it and a performance of the song, and the show was produced by Al Brodax, the voices for the Rutles were provided by Paul Frees who did Nasty & Stig's voice, and Geoffery Hughes did Dirk and Barry's voice.
Depiction of The Rutles
Edit
The Rutles were all skinny, tall, and with exaggerated features. They all had blue button-up shirts, a black tie, and a blue tux to go over the shirt & tie.
Ron Nasty
Edit
Nasty is depicted as the leader of the group and is shown to be 'the brains of the Rutles.' His "Rut-top" hair cut is much bushier than the others and his facial expression is always that of utter annoyance. His eyes appear to be squinting and his trousers are tight, but are still the thinnest of the group.
Dirk McQuickly
Edit
Dirk is the follow-up-leader, or 'assistant.' He is more of a dandy than the other group members. His hair is drawn to be the longest of all the Rutles.
His eyes are stretched, often looking wide awake, and when he smiles - one tooth is always visable. His fingers are spread apart whenever he is talking to someone and he always looks at whomever he is speaking with because 'he's just not rude'. However, when Ron has an idea, Dirk is first to shoot it out of the water. His trousers are thinner than Ron's, and this causes them to always be partially bent.
Stig O'Hara
Edit
Stig has cheeks that point in to the center of his face as if he were always smiling and like Barry, his front teeth stick out. His hair is raggedy at the top and neat and brushed at the bottom. His eyebrows connect in the middle, almost making a uni-brow, and the top of his eyes are always drooping, as if he was asleep. His trousers were the second tightest of the group.
Barry Wom
Edit
Barry is the loud Rutle. His hair is the shaggiest, sometimes overtaking his eye brows, and his ears stick out of the side of his Rutle-top. His neck is long and his nose big. In some cases, his smile would look like that of a cat, or the number 3. He always carries drum sticks and has large hands. Of all the Rutles, he has the tightest trousers.
Season 1 (1965-3/1966)
Edit
Merchandising
Edit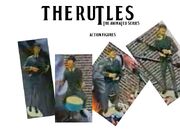 Toy adaptations of the Rutles in the show were created in 1967. They're now counted as rare and valuable collectables.
The series was reissued later on DVD, along with the toys. However, the rereleased version of the toy is less valuble.