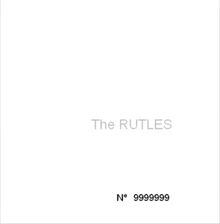 The Rutles (aka The Shite Album) is a 1968 double album by The Rutles. It was influenced by Arthur Sultan on their trip to Bognor (See The Rutles in Bognor). The only western instrument available to the group during their visit were the acoustic guitar and the ukelele, and thus many of the songs on The Rutles were written and first performed on those instruments. Not related with The Triangular Album
Tracklist
Edit
Disc One
Edit
Mr. Eurovision Song Contest Man
The Sound Of Music
Dream On
How's Your Father
Protest Song
Jollity Farm
Bad Blood
Tent
I Give Myself To You
Mother
Disc Two
Edit
Sausages
Short Blues
Quiet Talks & Summer Walks
Monkey On My Back
We Are Normal
Highs And Lows
Blackest Of Blues
Hard Times
Godfrey Daniel
Scarlet Ribbons
The album's sleeve was designed by a pop artist, in collaboration with McQuickly. The design was in stark contrast to The vivid cover art for Sgt. Rutter's Only Darts Club Band, and consisted of a plain white sleeve. The band's name was blind embossed slightly below the middle of the album's right side, and the cover also featured number "9999999". The Rutles thought that this cover was stupid and ensenless.
Ad blocker interference detected!
Wikia is a free-to-use site that makes money from advertising. We have a modified experience for viewers using ad blockers

Wikia is not accessible if you've made further modifications. Remove the custom ad blocker rule(s) and the page will load as expected.