Welcome to The Rutles Wiki!
A wiki for the Pre-Fab Four that anyone can edit.
July's Featured Article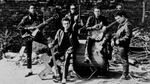 The Rutles, known also as the Prefab Four, the Silver Rutles, the Ruts, the Tuls, the Sluts, and even Alma Cogan; were the most influential band in the whole history of music. They consisted of four main members; Ron Nasty, Dirk McQuickly, Stig O'Hara, and Barry Wom. Their legend helped defined the 1960s, and will live on after other living legends have died. Indeed, a legend that will last a lunchtime.

---
Create blog post
New Blogs
I was listening to the radio this morning on my way to work and the DJ mentioned that Ouch! was released 51 years ago today. Pretty amazing!!

Read more >

hello Rutle fans.

Just joined and wanted to say hi and also how much I really like the wiki.

(plus...it's a way to get another cool badge)

Thanks

Read more >
See more >
Ad blocker interference detected!
Wikia is a free-to-use site that makes money from advertising. We have a modified experience for viewers using ad blockers

Wikia is not accessible if you've made further modifications. Remove the custom ad blocker rule(s) and the page will load as expected.