WARNING, THIS PAGE IS WRITTEN IN AN "OUT OF RUTLAND" POINT OF VEIW.!
Over the years, the Rutles have become under-excessively popular among audiences. Many references have been made to the within pop culture.
In Television
Edit
The Powerpuff Girls episode Meet the Beat-Alls features numerous Beatles references and jokes. One surprise reference was that of a character named Stuart Best, who is shown filming a documentary on the Beat-Alls. He was apparently modelled after The Interviewer from All You Need Is Cash played by Eric Idle, complete with brown trench coat, black glasses, and blond hair.
In literature
Edit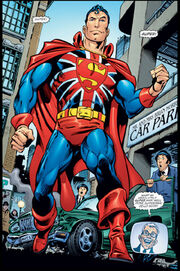 Douglas Adams was a self-proclaimed Beatles fan. In an interview, he stated "People now ask is Oasis are as good as the Beatles. I don't think they're as good as the Rutles." This interview was later re-printed in his last book, The Salmon of Doubt.