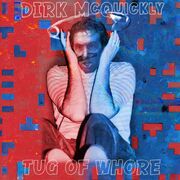 Tug Of Whore is the third solo album by Dirk McQuickly, released in 1982.
Background
Edit
Dirk had been shocked and stunned by Ron Nasty's decision to go back into retirement at the end of 1980, as the pair had been planning to sue each other again for no reason whatsoever for some time. He spent the next two years recording this album and throwing rotten eggs at Nasty's house on a daily basis.
Around the same time, Dirk had also been working on the song 'We All Hang Together', which ended up in the animation Lupert and the Bog Song. The song for the animation was named 'the naffest song of all time' by Mick Jagger and got Dirk arrested. 
The album features a song called Hear Today, Deaf Tomorrow. Some DID (Dirk Is Deaf) conspiracists believe the song is not about kittens and bare bottoms as the song suggests at all, but rather about Dirk's own deafness. 
Recording
Edit
Dirk recorded Tug Of Whore with Archie Macaw, the same producer who worked with the Rutles. 
Tracklisting
Edit
(all songs composed by Dirk McQuickly unless noted)
Who's That You're Suing? (McQuickly/Blunder) (duet with Stevie Blunder)
Hear Today, Deaf Tomorrow
Wanderlouse
Rut It (duet with Carl Pinkpin)
Be What You Rut (Sync)
Alimony and Chivalry (duet with Stevie Blunder)
Ad blocker interference detected!
Wikia is a free-to-use site that makes money from advertising. We have a modified experience for viewers using ad blockers

Wikia is not accessible if you've made further modifications. Remove the custom ad blocker rule(s) and the page will load as expected.