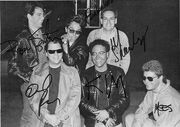 When People Were Shorter and Lived Near the Water was an American experimental psychedelic rock band active from 1986 to 1996, which repertoire consisted solely of experimental cover versions from various genres. They released a cover version of "Let's Be Natural" on the 1993 tribute album Rutles Highway Revisited.
Ad blocker interference detected!
Wikia is a free-to-use site that makes money from advertising. We have a modified experience for viewers using ad blockers

Wikia is not accessible if you've made further modifications. Remove the custom ad blocker rule(s) and the page will load as expected.