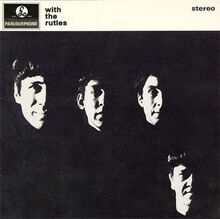 With the Rutles is the second album by the English rock band the Rutles. It was released on 22 November 1963, on Parlourphone, and was recorded four months after the band's debut Please Rut Me. The album features eight original compositions (seven by Nasty–McQuickly and "Don't Brother Me", Stig O'Hara's first recorded solo composition and his first released on a Rutles album) and six covers (mostly of Motown, rock and roll, and R&B hits). The cover photograph was taken by a fashion photographer, and it has been mimicked by several music groups over the years.
Tracklist
Edit
Side One
Edit
Dirk Is Too Long
All You've Got To Do (Is Lunch)
Don't Brother Me
Rutle Child
Please Mister Leggy
Side Two
Edit
Hold Me Thigh
Food Really Got a Hold on Me
I Wanna Be Your Lamp
Melvin In Her Heart
Not A Second Rhyme
Lonely (That's What You Are)
The Recording
Edit
The recording process of this album, is unknown. it was recorded sometime between October 7th of 1963 - November 8th of the same year. All we know Is that the album took, at least more then twenty minutes to record.